Hair removal can be an embarrassing topic, especially if you have got darker skin excessive hair. Because it's a little uncomfortable to talk about, a lot of locker room style myths and preconceptions have arisen around hair removal, safety, and darker skins.
So we thought it was about time to demystify Intense Pulse Light (IPL) and laser hair reduction, and tell you a little bit more about what's true – and what's not.
TRUE or FALSE:
Women of Asian descent can't safely use IPL or lasers.
FALSE.
We can safely treat anyone whose hair is darker than their skin, up to classification 4 on the Fitzpatrick scale. This typically includes Asian, Mediterranean and Oriental Asian skin – take a look at the fitzpatick scale here (this is what we use to determine skin/hair types for Laser/IPL hair removal).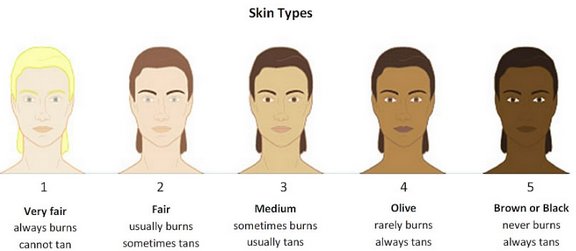 TRUE or FALSE:
You can't have IPL if you've got a post-holiday tan or use fake tan.
TRUE
You can learn more about how IPL works on the treatment description page, but in brief, it targets the pigment in the hair. If the hair is lighter in colour than the skin, then it won't work – that's why you'll need to wait until your tan fades before we can effectively treat your hair.
TRUE or FALSE:
The darker your skin, the more IPL will hurt.
FALSE
Though due to the absorption of light by the skin, darker skins have a higher potential to burn, it won't hurt any more or less than on someone with paler skin. That's because we alter the setting of the machine, so there's no chance of burning.
TRUE or FALSE:
If you have naturally dark or olive skin, IPL won't work.
FALSE
Olive skin absolutely can be treated – as long as your hair is darker than your skin, and your skin is in classification 4 or above on the Fitzpatrick Scale it's likely that IPL will work for you. However, we will always do a patch test to ensure that it's safe for you.
TRUE or FALSE:
IPL works well on pale skin, particularly pale skin with red hair.
BOTH!
It's TRUE that pale skin is very suitable for IPL, but it's FALSE that it's suitable for those of us lucky enough to be flame haired. Unfortunately, there isn't enough melanin in red, blonde or white hairs for the IPL to work. It's not that it's unsafe – it just won't be effective.
TRUE or FALSE:
You can use IPL on black skin.
FALSE
Unfortunately, it's not safe to treat skin types 5 and 6 on the Fitzpatrick scale – that's typically African, Caribbean and very dark Asian skin. This is because there isn't enough difference in colour between the hair and the skin, which puts you at risk of burn. However, there are other ways to manage excessive hair if your skin is darker – ask your practitioner to talk you through the options available to you.
So there you go, the most common misconceptions about skin and hair colour and IPL demystified!
However, the best way to find out if IPL is right for you is to pop into your local clinic to chat to the expert practitioners, and have a patch test. They'll be able to answer any questions you might have, and talk you through exactly what to expect.
The patch test is FREE and will take a few minutes to conduct.
Treatment Pricing
Hair Reduction for Darker / Asian Skin Types
Pricing content goes here.